Bravo for visualising the invisible
Of all the product demos we've had, nothing will ever come close to Amina's. You'd be forgiven for thinking they'd just moved in to their demo suite because apart from a projector and a Chesterfield sofa, the room was completely empty.
And then it wasn't. The entire room flooded with sound. The best sound we'd ever heard… from speakers we couldn't see.
But it's almost unfair to call them speakers. Not much bigger than an A4 sheet of paper, and not much thicker to be fair, Amina's DML (Distributed Mode Loudspeaker) panels transform entire walls, ceilings, and even swimming pools into rich amplifiers and subwoofers. Frankly, it's no wonder they count some of the finest art galleries, architecture, Hollywood Directors, and Oscar and Grammy award-winning stars amongst their client list.
But, despite their incredible innovation, their branding and marketing weren't broadcasting the same story.
It is now.
For us, it was vital that the branding not only communicated Amina's innovative products, but their pioneering intelligence too. And we first demonstrated this through the simple but powerful brand mark – which uses negative space to form an invisible A around the entire logo. After all, if you have an invisible product, shouldn't your branding demonstrate that too? As you'll see below, once you see the invisible A, you can't unsee it.
Bog standard sound is incredibly hard to portray, especially in static photography. But with sound immersion this good we chose the visually powerful aesthetic of underwater photography. And finally, the angular attributes from the distinctive brand mark were echoed both across the brand identity architecture and even throughout our art-directed product photography.
Visually representing what you can only hear is tough. Communicating the feeling that said incredible sound creates, is even harder.
But as our rebrand shows, with some strategic thinking, it really is possible.
• Rebranding
• Brand consultancy
• Visual identity & design
• Proposition creation
• Copywriting
• Photography
• Ident creation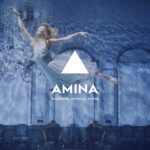 Scroll down to view the branding before and after
Branding before and after, website and collateral design