Bravo for the COVID-19 vaccine
Bravo's Creative Director, Baz Richardson, was commissioned by

Lynn PR

to create the core creative concept for an urgent NHS vaccination encouragement campaign targeting young people across London.
In an 'unprecedented' turnaround, working with the LynnPR team, Baz created the core campaign concept, visual call to action, script, storyboard, and directed the TV ad production… in less than two weeks.
The concept uses spoken word poetry throughout the TV ad's script and campaign messaging which demonstrates both personal and altruistic reasons for the audience to consider getting the COVID-19 vaccine.
Furthermore, across social media posts and out-of-home applications, the campaign art direction uses a split-screen 'bigger picture' treatment to visually enhance the reasons-based messaging.
The rhyme concludes in the 'message in a bottle' visual call to action; Over 18? Don't miss your vaccine.
Check out the campaign creative, and watch the TV ad below.
"Effective campaigns like 'Don't Miss Your Vaccine' will help us improve vaccination rates across our communities and ultimately, save lives."

Pamela Froggatt, Deputy Director of Communications & Engagement, Our Healthier South East London
Campaign concept
Campaign design
Scriptwriting
Copywriting
Storyboarding
TV ad art direction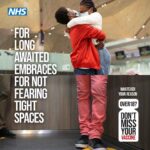 Scroll down to see the creative we produced