Thanks to your (alledged) diminishing attention span, I doubt you'll get to the end of this article. In fact, I dare you to prove me wrong. In the interests of setting expectations, I've kept this article short, sweet and even removed the A.D.D-friendly in-article links*.
"Can we have a 90 second video?" was fired at me recently. During the conversation that followed, I stole Jerry Seinfeld's "There's no such thing as an attention span….only the quality of what you are viewing". 
He carries on to say "This whole idea of an attention span is… a misnomer. People have an infinite attention span if you are entertaining them".
Time is a factor in some marketing (like the trusty elevator pitch and YouTube pre-roll for instance), but not all marketing content should be driven by time. Santander recently proved my point with perhaps the hardest audience of them all – millennials. Despite lasting over 1076 seconds (just shy of 18 minutes), the brand's sci-fi film 'Beyond Money' secured 35% of the bank's annual business goal in just two weeks.
The reason this film worked was because it told a story that resonated with the audience. That was the starting point, not time. Effective marketing works because it tells the audience's story and how your brand (or products and services) fit into it.
This rule isn't exclusive to video or film content. Blogs, content downloads and even listicles (despite their unfortunate portmanteau) should lead with the audience's need first.
Vanilla web copy is another victim of 'me too' and time. Speaking of which, "We have too much text on our homepage" is another ill-considered retort I've heard. The analytics proved that the page's dwell-time matched the copy length – suggesting that the words were doing their job.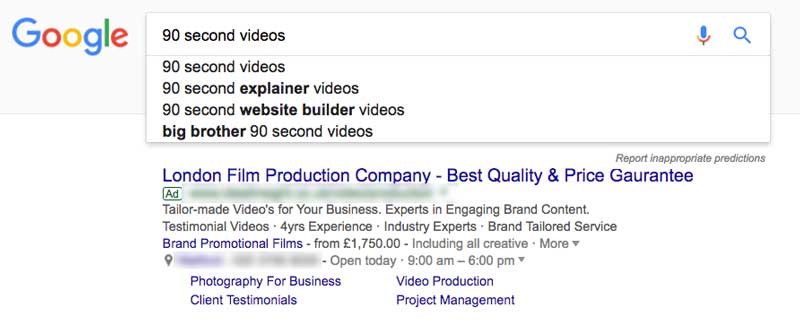 Anyway, back to video. Proof that "ninety seconds" is requested so much – video production companies (who can't spell 'guarantee') are even buying the search term. 
It's a myth that goldfish have a six second memory, and it's a terrible misconception that your audience will only consume your marketing for set periods of time.
Yes we have an insatiable appetite to stay connected (which is what's being blamed for our shorter attention spans). But that appetite is even more reason to consider how your creative marketing content should capture and maintain your audience's attention. Start with the "why?", not the "how long?". That's how we create BRAVO!
Congratulations, you proved me wrong. I reward you (and your stubborn attention span) with the end.
*P.S. Here's my article about Santander's record-breaking sci-fi film Beyond Money.
Barry Richardson is the Founder & Creative Director of BRAVO
: :  Creative Marketing Well Done : :
Read more rants…*cough* …I mean opinions!
If you have any questions or would like to arrange a meeting, simply complete the following fields and we'll get back to you shortly.